"We make a living by what we get,
we make a life by what we give."
-Winston Churchill
We Care: About Our Community, Our City,
And Every Client That Walks Through Our Door
Million Dollars Lent to Calgarians
Calgary Families Fed this Year
10% of our bottom line goes back into the community

Taking a page out of Village Brewery's playbook, we've committed to put 10% of our profits back into the community. Whether it is performance groups like Revv 52, charities like the United Way, or vital organizations like the Mustard Seed, we put the money back into Calgary. You could say it's a 360 degree cycle.
We Believe: Everyone Has A Right to the 3 Basic Needs
We Earn A Living Helping People Buy Their Homes. We Help People Buy Homes So We Can Give Back To The Community.
Who We Are
Article Originally Published in The Difference Makers
One would think the focus of a company called Mortgage360 would first and foremost be on loans, but something else actually tops the list.
The spotlight is on people. Every decision at Mortgage360 is made with the client and the community in mind.
That purpose makes going to work continually enriching for co-founders Nolan and Jen Matthias. Partners in life, with a new son and also partners at work, they created Mortgage360 specifically with their vision of how clients should be treated.
From the first point of contact with the staff at Mortgage360, it's clear they do things differently. They don't just help homeowners get a mortgage — they allow them to choose the one that best meets their needs after arming them with knowledge. "We empower our clients with education," says Jen.
Homegrown in Calgary, Mortgage360 was designed around working as a team, not as a company that houses individual mortgage professionals.
That decision changed the way they look at the business, turning the focus directly on what most benefits the client. While they may be in the mortgage business, their ultimate job is to help people. "We guide the process. The client makes the decision," Nolan says.
At Mortgage360, the client is shown the rate sheet, previously unheard of in the industry. "We want our clients to be completely informed," he adds.
And what surprises many is that the rates aren't necessarily the most important factor. By explaining the details of each mortgage from each lender, some crucial differences come to light, such as payout penalties and portability.
"We really do our research on each lender so that we can fully inform our clients and ease the process for them," Nolan says.
Mortgage industry jargon is explained in an understandable way so that the client feels completely comfortable in making their choice.
"We do this on a daily basis, so we know what to look for that might be a red flag," says Jen.
Seeing how Nolan and Jen relate to clients makes it obvious they are doing what they love. Yet they were originally pursing different career paths when they both found their passion.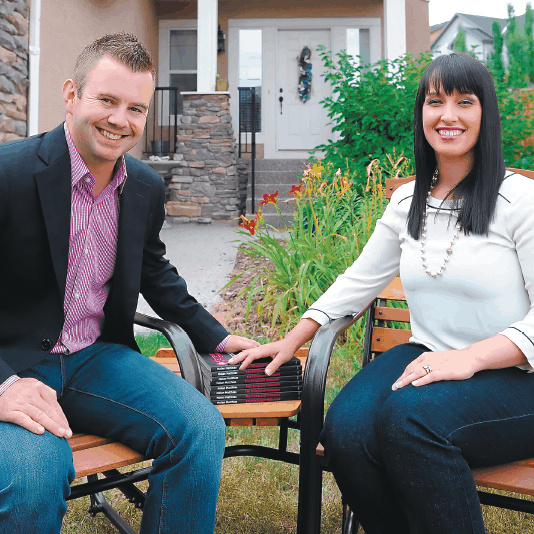 January 2015
Kevin O'Leary took the stage to much fanfare last week at the Calgary Real Estate Board's annual forecast breakfast. The Shark Tank star provided levelheaded […]
Below is our forecast for the Calgary Mortgage Market – 2015.
The once seemingly clear crystal ball that existed prior to the surge of Calgary housing […]
December 2014
Mortgage360, a boutique mortgage brokerage with offices in Calgary and Red Deer, will launch an innovative, yet simple approach to real estate education beginning in […]